XTZ EDGE A2-300 Power Amp
XTZ's newest amplifier, EDGE A2-300 was created upon the great heritage of XTZ in amplification technology and electrical devices. Crossing the gap between a nearly never ending source of power with its 2 x 300W on 4Ohm when its needed and a vanishingly small power consumption (up to 90% efficiency and 0,27W in standby mode), the EDGE A2-300 marks the epoch of a totally new generation of amplifiers. Besides the performance it is also the sound quality in which the latest ICEpower® Class-D technology outweights the traditional ways of amplification. Among the many advantages of the used technologies, the amplifier produces high dynamic range and a very low amplifier output impedance resulting in highly precise bass control and very low distortion, superior to Class AB. Although these impressive specifications imply a large and unwieldy housing, the EDGE A2-300 features an extremely stiff compact cabinet out of aluminum and steel which provides a high mechanical stability, adequate cooling and even rack mounting possibilities.


The famous ICEpower® class D technology of the A2-300 features the patented HCOM modulation and control techniques which ensure an excellent audio performance. With a dynamic range of up to 113 dB, the amplifier provides a perfect signal amplification with an absolute minimum of background noise. The damping factor is larger than 1500 to ensure maximum control of the signal and thus an even more natural and balanced sound. Its high impediance input ensures that the power amplifier can be driven by any source. Each channel is balanced from input to output in order to minimize common mode noise, power supply noise and even order distortion. The distortion and noise is kept very low throughout the audio band which gives a very homogenous sound image with clear details without causing listening fatigue. And thanks to the huge bandwidth you can enjoy the entire spectrum of 192/24 recordings. To minimize the power consumption, the EDGE A2-300 can be used in Auto-On mode. In this mode, the amplifier stays in standby mode which consumes less than 0,3W and is switching on itself automatically when it receives a signal. When the signal is not present anymore, it takes the amplifier eight minutes to switch back to the standby mode again. Choosing the mono-mode with the stereo/mono switch, located on the backside, provides the possibility to use the EDGE A2-300 in Bi-Amping. The gain potentiometer can be used to adjust for the output level, when connected to other sources than regular pre-amplifiers like mobilephones, mediaplayers etc. It can also limit the maximum power output of the amplifier, as a safety protecting for your speakers. This outstanding overall flexibility in combination with the enormous power output makes the EDGE A2-300 an excellent choice for every application purpose.
Connection possibilities
A switch on the backside enables you to choose between Stereomode and Monomode (Bi-Amping).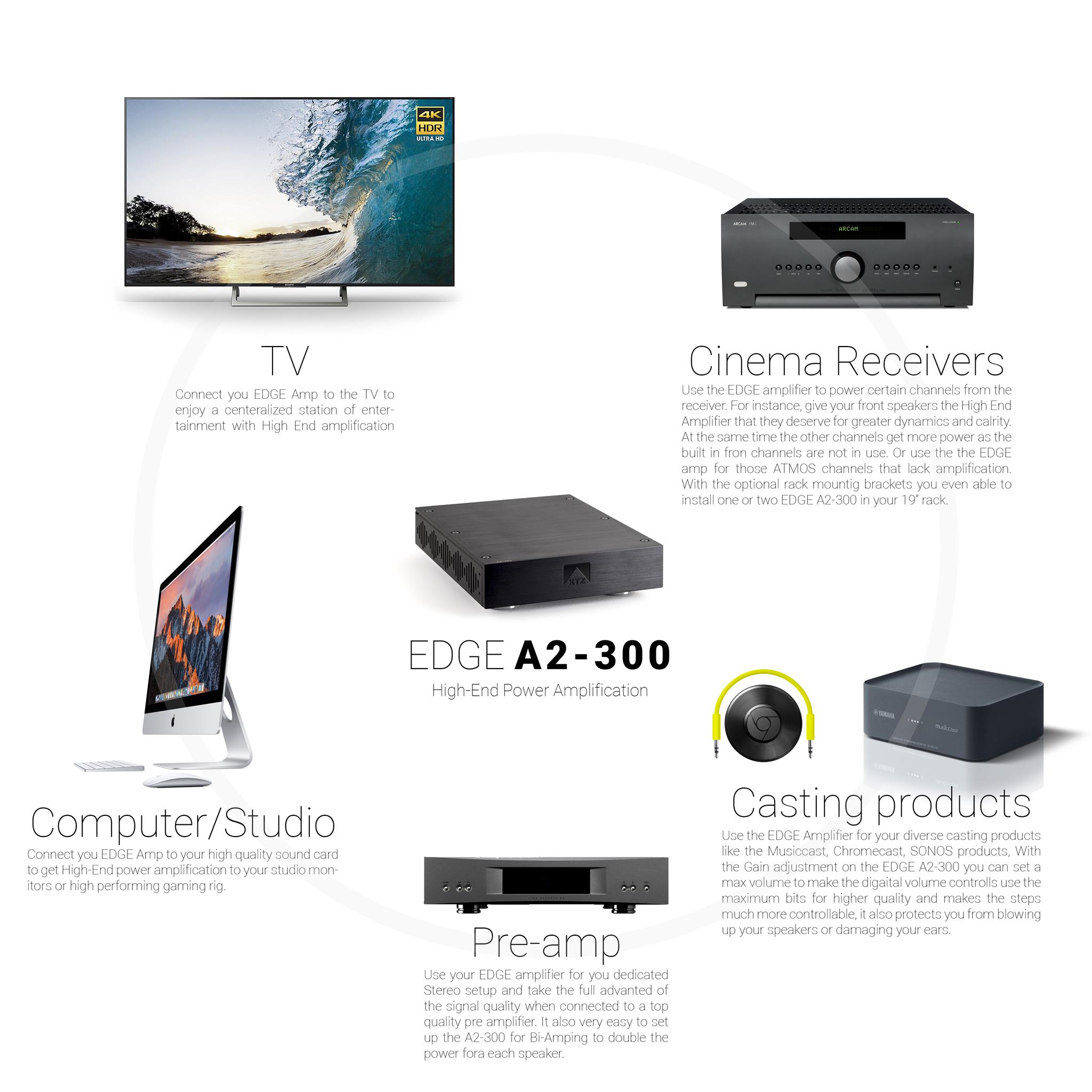 Stereo Setup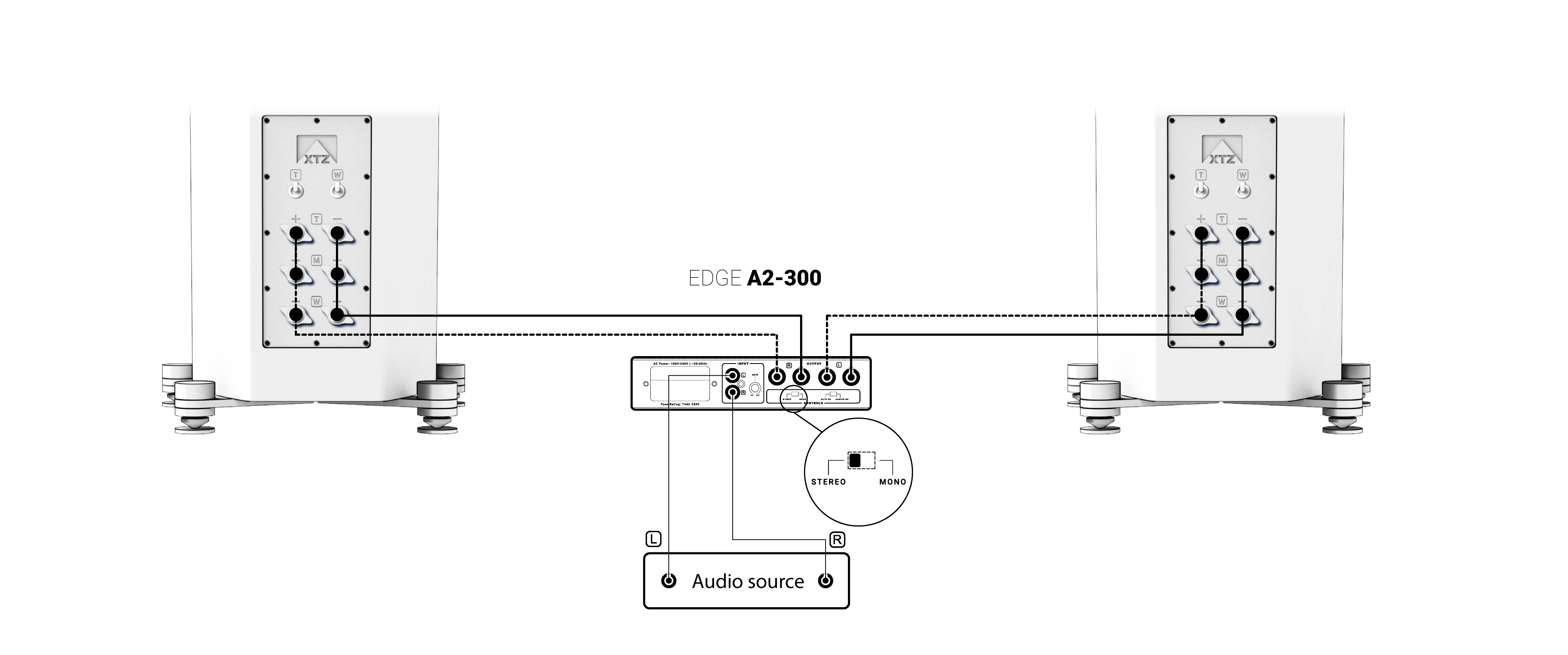 Bi-Amping Setup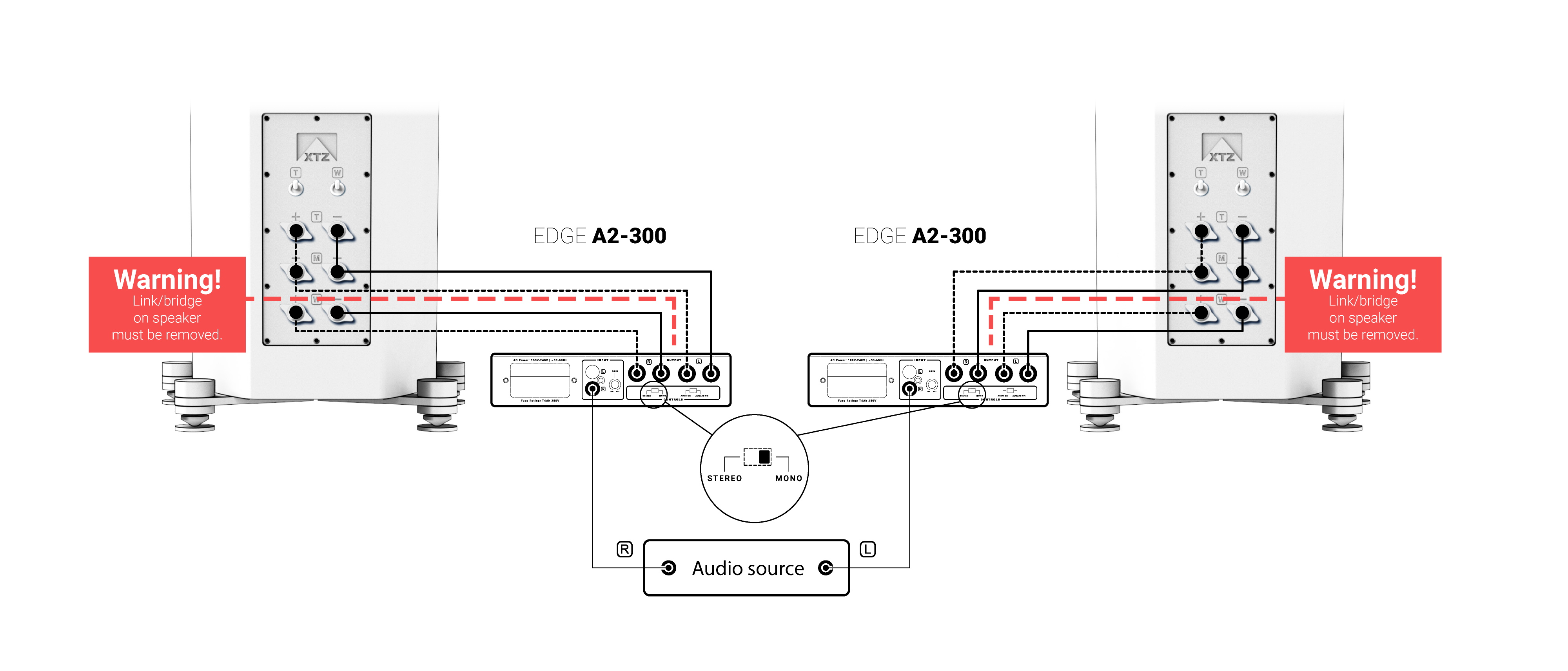 Bi-amping (Third Party Amplifier) Setup
| | |
| --- | --- |
| Construction Type: | 2-channel power amplifier |
| Amplification type: | Class D with Hybrid feedback Controlled Oscillation Modulator (HCOM) - ICEpower® Patent. |
| Power (RMS): | 2 x 300 W (1% THD, 4 Ω) | 2 x 150 W (1% THD, 8 Ω) |
| Frequency response: | 5 Hz – 70 kHz (- 3 dB ref.) |
| Distortion: | 0,005% THD+N (1 kHz, <100 W, 8 Ω) | 0,025% THD+N (1 kHz, <140 W, 8 Ω) |
| Damping Factor: | 1500 (<200 Hz, 8 Ω) |
| Dynamic range: | 113 dB S/N, (A-weighted at 300 W, 4 Ω) |
| Standby Power Consumption: | 0.27 W |
| Idle Power Consumption: | 6.80 W |
| Auto On / Standby mode timer: | 3 mV trigger level / ~ 8 min |
| Inputs / Input impedance: | High Quality RCA connectors / 38 kΩ |
| Input sensitivity: | ~1.96 Vp (1.39Vrms) |
| Outputs / Output impedance: | High Quality Copper binding posts (CMC®) / 50 mΩ |
| Dimensions: | 200 x 58 (70) x 285mm (W x H x D) (incl. feet) / 7.9 x 2.3 (2.8) x 11.2" |
| Weight: | 2,3 kg / 5 lbs |
| Warranty: | 2 years |
| Quantity: | 1 pcs |
19" Rack mounting possibilities
The brackets are sold separetly as optional accesories. Mounting needs 1 unit space.